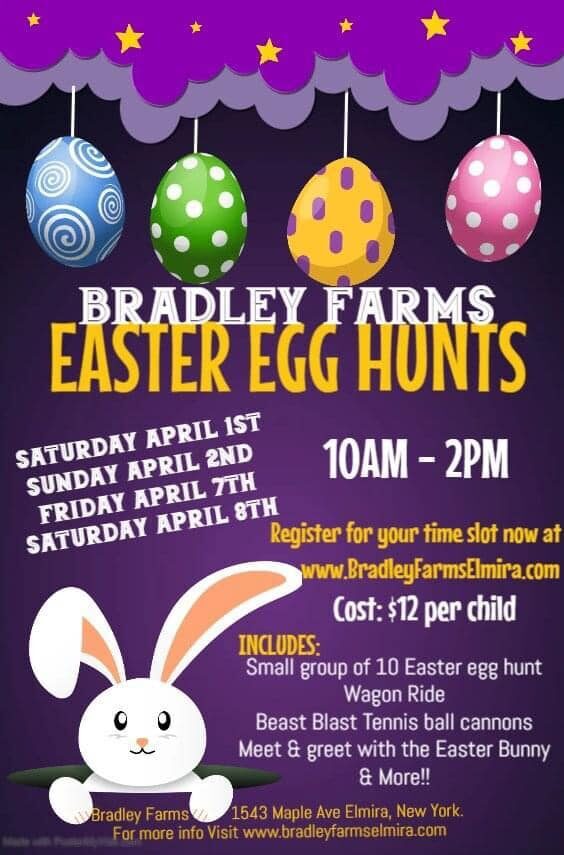 Bradley Farms Eggsperience Easter Egg hunts!
Saturday April 1st – 10am – 2pm
Sunday April 2nd – 10am – 2pm
Friday April 7TH – 10am – 2pm
Saturday April 8 – 10am – 2pm
Age Groups are 2-5 years old and 6-8 years old.
$12 per Child
What does your Child get?
• A small group (10) size easter egg hunt in a straw patch (indoors) They return their eggs to the redemption center for a goodie bag of Candy, prizes, and a rubber duck for the duck races.
• A bag of hot fresh Mini Donuts
• Viewing a digital Easter show
• A wagon ride including the family on the farm.
• Five (5) shots with our beast blast tennis ball cannons
• A Trip through the black hole vortex tunnel
• A personal meet and greet and photo op with the Easter Bunny!
This is and enclosed rain or shine event so your date is assured.
We Do request pre-registration and payment HERE
However, walk ins will be accepted at $15 per child if room is available.
Bradley Farms 1543 Maple Avenue Elmira, NY 14904
(607) 732-0561